CTR 520

This machine is designed for cutting smaller amounts of lumber. The ideal machine for family farms, joinery shops or small timber mills. It is the first in the world to use a bi-metal band-saw blade, which is standard for metal cutting bandsaws.
This gives you the following benefits:
- very simple servicing of the machine
- the same saw blade will cut all kinds of wood avoiding the need to continually change them
- maximum precision of the cut just like professional machines
- no long and complicated grinding and setting the saw teeth
- you don't need a saw blade grinder or equipment for setting the saw teeth
- you can start professional wood cutting immediately without any experience
- easily available and low cost bi-metal saw blade
- Low input power of the machine (4kw) keeps operating costs low and is easy to connect to the supply
The machine has a manual feed and return from the cut, height adjustment by a hand lever.

Technical data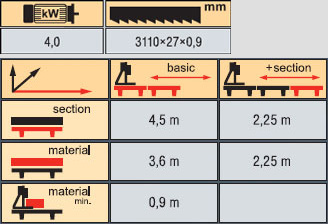 Basic version: main motor 4 kW, cutting length 3,6m 3 log clamps, 3 anti-roll back stops/squaring arms.
Extending section: cutting length 2,25m